Testimonials
What renters say about our Manzanillo condo…
---
Hi Astrid,
Thank you so much! Very charming place. It was perfect for us. Homemade breakfasts – I love to cook. A place to nap in the afternoons. The pier, the beach and even some scuba diving at the little beach just down the way. Wine on the balcony in the evenings. And very kind people.
The hot water and good pressure. And ease of cabs. We ditched the car day 2. Easier. Cheaper. The security at the gates was nice too  – felt safe always.
Thank you so much – take care!
Reg and Gryphon. (March 2016)
---
Hi Astrid, We had an amazing stay at your Manzanillo condo! After getting settled in we found the place to be super cozy and homey and found the patio later in the evening. The scenery is so peaceful and you're high enough to not hear the noise going on down below (not that there is much anyways). We loved every minute and didn't want to leave! Thanks for opening up the condo for us to rent 🙂
Karen K. (April 2014)
---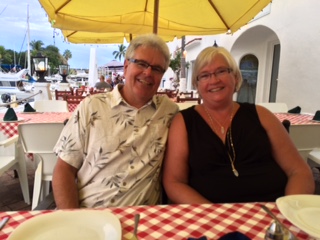 "Thank you Astrid and Jack for the use of your condo. Everything was great! The condo was small but adequate for our purposes. It was clean and tidy and very comfortable. This was our first try at condo life as opposed to the all inclusive. We enjoyed the switch, as we wanted to try a longer stay, and in doing so, our plan was to prepare a lot of our own meals. We purchased a small grill to use, as we preferred not to use the charcoal BBQ. There are very good restaurants nearby for those times a person does not wish to cook. It is very easy to get a cab, or to climb the hill and catch the bus which we did frequently. Shopping is close by, and easy enough to walk to for most people. We were able to book a couple of deep sea fishing trips right there at the Marina. The condo pool was a comfortable temperature with a wonderful ocean view. We really did enjoy the switch to condo life, as a person tends to venture out a lot more than when staying at an all inclusive. We look forward to our return next year for an even longer stay! Thanks so much again."
Brenda & Barrie (January 2014 / January 2015 / January 2016 / Janaury 2017)
---
We had an amazing time! Everything was great at your place. The area was the prettiest area we have seen in Mexico! Thank you for letting us rent your place. I will add some notes on the HomeAway site since that really helped me pick your place :-).
Greta M. (September 2013)
---
We spent a week at Condo La Vida Libre and really enjoyed our stay. Astrid was so friendly and helpful during the booking process and was quick to accommodate us when we needed to postpone our trip due to a family emergency.
The condo had everything we needed and a beautiful view of the beach, ocean and surrounding area. The marina area is spectacular and we often had our evening meal by the water. We especially enjoyed the pool with its ocean view.
We felt completely safe at all times. We took cabs to different areas of Manzanillo and also walked a lot and had no concerns about safety.
We stayed at three condos during our trip and this one was our favorite. I would go back tomorrow!
Nadine & Lyle Locke (November 2012)
---
Hi Astrid.
We are home now and yes we did have a fantastic time in Mexico. We absolutely enjoyed staying at your condo and the area that your condo is located is fantastic, we loved the geography, vistas and building architectures. Though there is bus and taxi service available in close proximity we did a lot of walking (hiking) either to town or to Santiago Bay and beyond for lovely long walks on the perfect walking beach.  The Condo's pool was beautiful, and the people working at the restaurant at the pool were lovely and friendly.  The beach was also wonderful, we enjoyed both the pool and beach equally.  The Condo's kitchen was very well stocked with everything we needed.  The thing we loved most was the Lanai,  it was so comfortable,  we loved to eat our dinners outside on the Lanai in the evening. The bed was quite comfortable however If I had anything negative to say it would be regarding the pillows, you need new ones.  The staff looking after the building including the gate guards were all very nice and accommodating.  We thoroughly enjoyed out stay.
Thank you Astrid for being so accommodating to answer all our per trip questions.
Thanks again, Kelly & Grant (March 2012)
owners comment:  The pillows have been replaced…  🙂
---
Hi Astrid.
Yes we are back and fully refreshed. We thoroughly enjoyed our stay at your condo. The beach was wonderful, very close, clean and safe to swim in, the unit was clean, very comfortable and spacious for the two of us and we enjoyed our daily walks to the Commercial Mexicana. The view from the balcony was great– onto the beach below. Appreciated the use of the DVD player and movies. If someone is wanting a quiet enjoyable stay this is the place to go to. One really nice factor as well was the fact that the balcony afforded us a cool place to rest at the end of the day. Security at the complex is good and staff very friendly.
Thank you for the opportunity to stay at your place.
K. Langereis, BC – Canada (February 2012)
---
---
Hi Astrid,
I cannot thank you enough for allowing us to rent your beautiful condo last month.  We loved it!  From the fully equipped kitchen to the WiFi, DVD player, and fabulous view, we felt totally at home.  We spent every morning out on the deck enjoying the view and then headed up to the pool for a short swim before exploring the area.  I walked every night along the malecon enjoying the beautiful architecture, shrubs and greenery.  The staff went above and beyond to assist us with any of our needs.  We have rented condos before, but I have to say yours was more equipped than any others we have rented in the past.  I loved how all of your kitchen utensils were color coordinated in a Mexican theme.
Thanks again. Virgil and Tera Redwine, Washington State – USA (January 2012)
---
Hi, I'm Mario.
I'm just emailing you to thank you, my sister loved your place and everything was great. Thank you and we hope to rent the place again… 🙂
Mario, USA (September 2011)
---
Hi Astrid!!!
We had a great time, the condo was very cute. Thank you a lot!!
Marina Castillero, Mexico (June 2011)
---
Bonjour Astrid,
My parents made a very beautiful journey in Manzanillo. Condo La Vida Libre was very well. Thank you for everything. My mother speaks even of returning to Las Hadas next year if her health allows it…
Best regards Luc Noiseux, Canada (February 2010)
---
Hi Astrid,
We had a great time and your Manzanillo condo is very lovely, thank you for sharing your place with us.
Thanks again! Bryan Huls, USA (January 2010)
---
Hi Astrid,
Sorry for the late response but I would like to say we sincerely had the best vacation we have ever had while staying in your condo. The entire area is extremely beautiful, the people superbly friendly and the weather fantastic. Once we arrived at Las Hadas we were in awe. The setting is something out of a postcard and we couldn't believe how gorgeous your view is. Once we walked in the front door of your condo we felt quite at home. Everything was clean, in order and we knew that we had to cherish every minute of our stay.
We spent our time wisely as we visited the local beaches, shops, restaurants and even took a bus to Barra Navidad. I must admit my personal favorite thing to do was to get up in the morning and enjoy the view off of your balcony. Thanks so much for having us and we look forward to more frequent trips. We even discussed coming back in the fall so I am hoping 🙂 Thanks again and we will be in touch.
Best Regards, Joshua Ferguson, MN – USA (April 2009)
---
Astrid,
What a great trip!! Well, we're home and we had a really nice time & your rental condo is beautiful! Cindy & I really enjoyed our stay there & feel really good knowing we have such a nice place to go when we want to get away. We had a fantastic time on the beach and seeing the local sites. The condo has it all & the bed really seemed comfortable to us after our long days on the beach, ha. ha. No, really, we both slept very well at the condo & it is so peaceful and quiet there all night long into late morning. I can't tell you how much I appreciated the Wi-Fi to stay connected and keep in touch with everyone at home. Your information booklet is great, as is your DVD/CD collection & I love the computer so wouldn't have been near as happy without the Wi-Fi. It was really nice to have the big jug of purified water. I really can't think of a thing you could do to make it more enjoyable & I also think that the price you charge is very reasonable. We did venture away from the beach area to go to town a couple of times for shopping and lunch, but really found that we had everything we needed right there. Thanks for renting to us and we look forward to doing it again next year. We can't wait to go back.
Kindest regards to you, Jack and the kids. Bob & Cindy Ravencamp, Kansas – USA (April 2009)
---
Dear Astrid and Jack,
We had a fantastic time in Manzanillo and enjoyed every minute of our stay in your beautiful condo. Everything is exactly as it looks on your website. Each and every day was like a paradise with the ocean, the warm breezes and lots of sunshine. The radiant colors of the flowers everywhere, lush greenery and the sun glittering on the water were even more beautiful after leaving the snow and winter weather.
Our first night in Manzanillo there was a large parade in observance of Lent. We were lucky enough to ride in the parade with the Puerto Las Hadas condo owners and pass out candy to thousands of people lining the streets for miles. The smiling faces and "high fives" made us feel welcome.
Our friends, Bill and Joanne (from our Michigan Condo) were excellent tour guides to all the wonderful sites to see. We went on a whole day trip of the area. Each night was a new and exciting restaurant with delicious meals. One night our dinners were half price as the restaurant was celebrating their 30th anniversary. We didn't realize this until the waiter brought the bill and informed us it was on a large sign outside the restaurant. Not knowing Spanish we had all totally missed it. Everywhere we went we met so many awesome Mexican people and they were happy, friendly and loved the "Gringo's".
Many thanks again for sharing your manzanillo condo so others can enjoy the beauty of the area.  We plan to come back again.
Joan and Jeff, MI.- USA (March 2009)
---
Astrid,
We had a great stay – enjoyed it thoroughly! We were really on vacation.
Tony & Tricia , AZ – USA (February 2009)
---
Hi Astrid,
Thank you so very much for the use of your condo.  The view is just fantastic from that side of the building. Jim and I  always used the back stairs as we found it good exercise and more convenient to get around. The studio condo was perfect! We found the restaurants to be very reasonable in price.  We ate at the cafe by the pool every morning. Fernando is a gem and you can tell he really loves children. He is always patting them on the head as he walks by. Laura was also another favorite. I love the pool! Every morning I was on the deck overlooking the ocean by 9 a.m. It was so very enjoyable reading and looking at the waves, the birds  and the big ships going by. We ate most nights at the Paradise restaurant which is located at the Dolphin Cove where all the beautiful bougainvillea is. The dinners were delicious, very reasonable and the view from up high was fantastic!
We did go over to the Commercial Store and went in to Manzanillo Central.  We took a day trip to Colima/Comala and visited the Flea Market at Miramar Beach. The whole area is wonderful and the Mexican people soooo friendly. We think Puerto Las Hadas is the best location by far. I felt like I was in Italy or Greece. We just loved the architecture built in to the hillside.  Being Easter, it was practically all Mexicans, but, we didn't mind and it didn't seem crowded to us and we enjoyed our stay so much. We hope to go back and stay in your place again sometime. I did water your plants even though they looked healthy. The studio condo is perfect! Thank you again for the use of your condo. Manzanillo is the best place we have been to so far in Mexico.
Adios, Jim and Pele Wyly, CA – USA (January 2009)
---
Hi Astrid,
We are having a lovely time in Manzanillo. The weather has been perfect and we are very pleased with the accommodations. I am especially happy with your CD collection. Thanks for checking in with us. We're having a great vacation away from our still rainy and cold Pacific Northwest. Thanks again for the little condo with the big view!
Sending you sunshine, Mary and Bob Larsen, WA – USA (December 2008)
---
We have really enjoyed our time in Mexico and your rental condo was the perfect place to be. It really
has a beautiful view with all the palms and the white buildings and bright pink bougenvillia. We enjoyed the weddings and the fireworks as well. Our son and his girlfriend really enjoyed their time here. We snorkelled, and went everywhere in both bays and to Barra Navidad for a day on the bus. Jeremy's girlfriend had a lot of fun shopping, and Jeremy had a lot of beach time and trying out the mexican beer once in a while. So, we really enjoyed our time here and can go home ready to get back to work. Brian and I went on an agriculture tour and also saw Cuyutlan, Colima and part way up the volcano. We also decided to take a portion of our funds and give it out as a tithe. So we had a lot of fun blessing some of the people who struggle to survive daily life here. It is a lot of fun to watch their faces light up and to appreciate a little extra to spend. We tried very hard to take good care of your beautiful condo and enjoyed your patio very much. We also appreciated the internet… especially with our family needing to keep in touch. So, thank you so much for sharing your wonderful place. We look forward to meeting you in the future, sometime. Bye for now.
Brian and Alana Harper, BC – Canada (February 2008)
---
Thank you very much for the use of your apartment! It is very pleasant and stays nice and cool in the
heat of the day. We loved the local beach and managed to go to Colima for an explore of the museums and the archeological sites and we also headed up the coast to Melaque. Being English I had to buy you a kettle so we could make tea – a present for the apartment. Sally managed to cook on the elements just fine and the local supermarket was excellent. I managed to get four rounds of golf in so that was a treat. Having the hotel next door is (on the whole) great. The beach and the buffet breakfast were wonderful! After 30 years it was time that we went back to Mexico and we are thrilled that we did – your vacation condo was ideal for us.
Thanks, Astrid. Ian McLean, BC – Canada (January 2008)
---
We had a wonderful time in Manzanillo. Your condo is lovely and we really enjoyed our stay there.
You must find it difficult to have strangers using it….especially now with everything being so fresh and new… but we took good care of it while we were there. Thanks again for everything, Astrid.
Best wishes, Chris Porter, NB – Canada (December 2007)