T'is the season…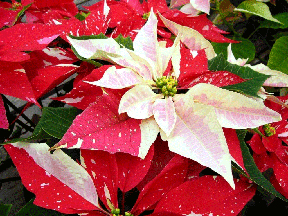 The way it is celebrated in Mexico is different than we are use to in the USA, Canada or Europe. In Mexico the Christmas celebrations starts as early as December 3 and lasts until January 6. There will be Christmas trees along the streets, decorations and traditional native scenes during this time. There will be a mass and feast on Christmas eve which will be in held in the traditional Spanish way which were created during Mexico's colonial period. Usually Mexican who are living abroad will be traveling back to Mexico to celebrate this special time with their families.
You will be able to visit Christmas street markets where there will be lots of stalls selling traditional Christmas gifts and decorations like ornaments, lights and poinsettias. (The poinsettia is an important plant species of the diverse spurge family that is indigenous to Mexico and Central America.) A lot of homes and other buildings will be decorated with poinsettia.
The traditional Santa Claus appears as well. It is not uncommon to see Santa somewhere providing an opportunity for children to have their picture taken with him. After Christmas Day, the Christmas stalls and stand will also have one or more Wise Men. Children get presents from both Santa Claus and the Wise Men. More often you will see that the traditional Christmas celebrations are mixed with foreign traditions and on the city's main square or Zocalo, a Christmas tree is set up and even an ice rink which has became a tradition.